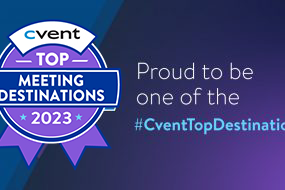 Aurora, CO Named a Top 25 Meeting Destination in North America by Cvent
Recognition highlights its group business appeal and continued commitment to corporate events
Aurora, CO – August 31, 2023 – Aurora, CO, announced it was named the 25th Top Meeting Destination in North America by industry-leading meetings, events, and hospitality technology provider, Cvent. After a four-year hiatus following one of the most challenging periods for the meetings and events industry during the pandemic, Cvent resumed publication of the globally recognized Cvent Top Meeting Destinations lists, which evaluate and recognize cities that are successfully attracting meetings and events to their locales. Rankings are determined based on sourcing activity through the Cvent Supplier Network, one of the world's largest venue-sourcing platforms.
Aurora, Colorado, the 'Gateway to the Rockies,' is the third-largest city in the state, located on the border of the plains and the majestic Rocky Mountains. Aurora has evolved from a small town to an international destination. The city's nearly 400,000 residents represent a rich tapestry of languages and backgrounds, including a significant immigrant population that contributes to its vibrant culture. Known for its blend of outdoor recreation and urban lifestyle, Aurora is home to famed attractions like the Gaylord Rockies Resort & Convention Center and a variety of international eateries. Aurora's close proximity to Denver and position near one of the world's busiest airports makes it a bustling hub of activity. While it is sometimes viewed as a 'suburb of Denver,' Aurora is far more than that, with its own unique identity. Aurora's rise as a prominent meetings and events destination is the result of a concerted effort to provide exceptional venues, services, and experiences. As we tell our planning partners, "We'll Move Mountains for You!"
"At Visit Aurora, we're about more than just promoting a destination," said Bruce Dalton, President and CEO of Visit Aurora. We're all about delivering an experience that'll stick with meeting planners and attendees long after their event wraps up. Aurora isn't just some dot on a map; we're a proud blend of innovation, nature, and community that comes together to make meetings truly stand out."
"We want to congratulate Aurora, CO, for its inclusion on this year's Cvent Top Meeting Destinations list. Following a few challenging years, business events are back in full swing, and we're excited to once again recognize cities, and their supporting partners, that are uplifting their local economies and helping planners deliver incredible events," said Bharet Malhotra, Cvent Senior Vice President, Hospitality Cloud.
"Meetings, events and conventions bring significant value, and the cities featured this year have convention & visitors bureaus and destination management companies that have embraced their role as destination advocates and have made hotel and planner engagement a priority."

Methodology
Cvent evaluated 12,500+ cities worldwide listed on the Cvent Supplier Network. Activity was tracked between January 2022 and December 2022. Rankings were determined by a set of qualifying criteria, including: the number of total room nights booked through the Cvent Supplier Network; the number of unique electronic request-for-proposals (RFPs) sent through the marketplace to venues within the city; the total value of the RFPs submitted; and the actual awarded value for meetings booked.

About Visit Aurora

Visit Aurora is the official Destination Marketing Organization for the City of Aurora, Colorado, and acts as the primary liaison between meeting planners and hotel partners. As Aurora's official
Convention and Visitors Bureau, Visit Aurora's mission is to grow travel and tourism through world-class destination marketing, sales and advocacy, resulting in positive economic benefit for
businesses and residents of our community. For more information on Aurora, upcoming events or meeting facilities, go to VisitAurora.com.
About Cvent

Cvent Holding Corp. (Nasdaq: CVT) is a leading meetings, events, and hospitality technology provider with 4,800+ employees and 21,000+ customers worldwide as of March 31, 2023. Founded in 1999, the company delivers a comprehensive event marketing and management platform and offers a global marketplace where event professionals collaborate with venues to create engaging, impactful experiences. Cvent is headquartered in Tysons, Virginia, just outside of Washington D.C., and has additional offices around the world to support its growing global customer base. The comprehensive Cvent event marketing and management platform offers software solutions to event organizers and marketers for online event registration, venue selection, event marketing and management, virtual and onsite solutions, and attendee engagement. Cvent's suite of products automate and simplify the event management lifecycle and maximize the impact of in-person, virtual, and hybrid events. Hotels and venues use Cvent's supplier and venue solutions to win more group and corporate travel business through Cvent's sourcing platforms. Cvent solutions optimize the event management value chain and have enabled clients around the world to manage millions of meetings and events. For more information, please visit Cvent.com.


Media Contacts
Visit Aurora
Alexis Watts
Director of Marketing
AlexisWatts@VisitAurora.com
D: 720-484-9628
Cvent
Erica Stoltenberg
EStoltenberg@cvent.com
D: 571-378-6240