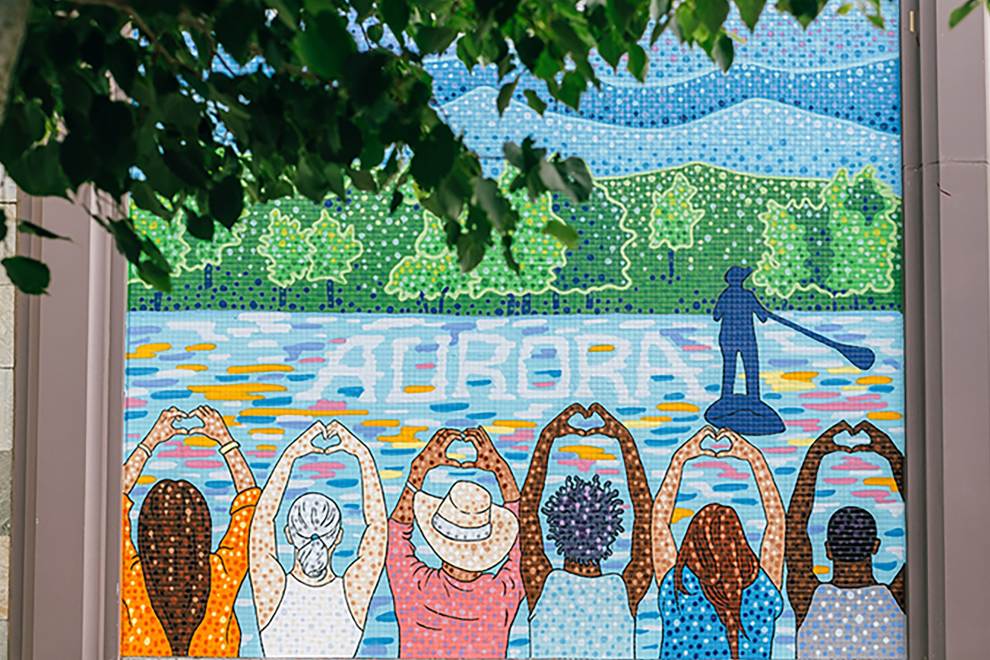 Visit Aurora Unveils Dynamic Rebranding Campaign Celebrating Diversity and Creativity: Our Story, Our Way
Aurora, Colorado - 10/31/2023 - Visit Aurora, the city's official destination marketing organization, is thrilled to announce the launch of an electrifying rebranding campaign that reflects the essence and soul of this vibrant city. We've teamed up with MMGY Global, the travel industry's leading branding agency, to bring to life our vision for Aurora, embodying our spirit of open-mindedness, creativity, and an unapologetic pride for who we are as a community, a campaign that amplifies the true spirit of Aurora and its diverse, multicultural community.

At the heart of our city lies a story as unique as the people who call it home. Aurora is a melting pot of cultures, languages, and traditions, with over 160 languages spoken, making it one of the most diverse cities in the nation. The threads of unity, mutual respect, and a celebration of our differences weave together the rich tapestry of our community.

The rebranding campaign, "Our Story, Our Way," is an invitation to explore a city that embraces the unexpected and thrives on the creativity that flows through its streets. Our vision for the campaign is to showcase Aurora as an inclusive destination that welcomes all, where possibilities are limitless, and individuality is celebrated.

"Our Story, Our Way" captures the essence of a city where the heart resides within each of us. The campaign highlights the warmth and hospitality of our community, emphasizing that when you visit Aurora, you are not just a tourist; you become an integral part of our tapestry.

Aurora proudly boasts a thriving immigrant and refugee community that has enriched the city in every possible way. Their vibrant cultures and stories have become an integral part of Aurora's identity, shaping our growth and fostering a sense of belonging for everyone. Our commitment to being community-minded and welcoming to all visitors lies at the core of our rebranding initiative.

"Our rebranding campaign represents the true spirit of Aurora – a city that stands tall with its diversity, embraces creativity, and celebrates individuality without reservation," said Bruce Dalton, CEO and President of Visit Aurora. "We believe that the cultural fabric of our city is what makes us exceptional, and this campaign reflects our dedication to making Aurora a destination that welcomes everyone with open arms."

The "Our Story, Our Way" campaign will feature a series of captivating multimedia content, including visually stunning videos, engaging social media campaigns, and interactive experiences that highlight the city's unique offerings. The campaign is set to launch on 10/31/2023, and visitors from near and far are invited to participate in this exciting journey.

Join Visit Aurora as we embark on this new chapter for our city that celebrates our vibrant community and inspires all to embrace the Aurora spirit. Follow us on social media at @VisitAuroraCO and explore our website at VisitAurora.com to witness the magic of Aurora come alive.
Visit Aurora Brand Anthem Video
About Visit Aurora:

Visit Aurora is the official destination marketing organization for the city of Aurora, Colorado. We aim to promote Aurora as a vibrant, inclusive, and creative destination for leisure and business travelers. We strive to showcase the city's diverse culture, thriving communities, and endless opportunities for exploration and connection.

For media inquiries and more information, please contact:

Alexis Watts
Director of Marketing
720-484-8913
AlexisWatts@visitaurora.com

Photos and videos can be downloaded here.